Today is the birthday of Cookie Monster- the cute, fur-clad monster who loves cookies more than anything in the world.
Cookie Monster is a character in Sesame Street series. In addition to cookies, Cookie Monster loves lots of other foods, especially with lots of carbohydrates such as pizza, ice cream, hotdogs, donuts, bananas, apples and anything he sees.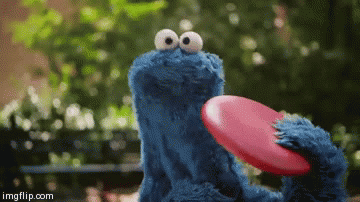 Cookie Monster designed by Jim Hanson, the puppet maker, in 1969.

Starting in 2006, Cookie Monster began changing its diet and switched to a healthy diet to give children a good example. He said that from now on, cookies are just a snack that is eaten from time to time, and that he eats a lot of fruits and eggplants.
Congratulations Cookie Monster!